1 minutes walk from "Asakusabashi" station on JR Yamate line
1 minutes walk from "Asakusabashi" station on Toei Asakusa Line
Traditional Thai Massage Asakusabashi
RUAN SPA

Phone.03-6240-9037
Tap to CALL

Stretch to stretch joint joints and muscles Feet, waist, shoulder fatigue and muscle fatigue are also refreshing! Relieve stress and feel refreshed! Thai traditional massage

Traditional Thai massage is a traditional massage that has been handed down from ancient times in the Kingdom of Thailand and is performed by combining acupoint pressing and stretching. The therapist relieves muscle fatigue and increases body flexibility in a variety of ways, including pushing, kneading, twisting, twisting, stretching and tapping. These therapies not only heal stiffness and tiredness, but also have effects on various illnesses such as high blood pressure, low blood pressure, poor circulation, anemia, headache, constipation, irregular menstruation, loss of appetite, allergies, asthma, diabetes and colds. It is said to be a massage that is popular all over the world.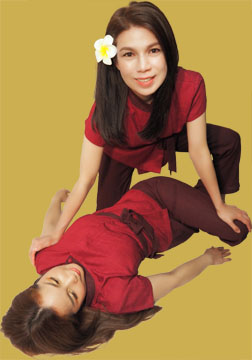 What is the effect of Thai traditional massage?
1. Increases muscle flexibility and prevents aging.

Our body is very flexible at birth, but after peaking in our teens, our muscles become stiff, our joints have a narrow range of motion, our internal organs and motor function decline, and aging progresses. .. Waste products stay in the stiff muscles, causing pain and weakness. Thai massage allows you to get rid of waste products in your muscles, get rid of them, take in oxygen and new nutrients, regain their original flexibility and rejuvenate your muscles in order to fully loosen your muscles.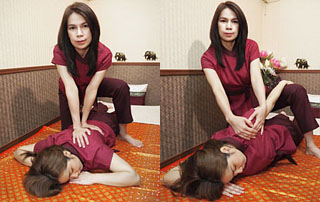 2. The autonomic nerves are balanced and the body and mind can be relaxed.

Our body is innervated by two autonomic nerves, the sympathetic nerve and the parasympathetic nerve. The autonomic nerves control blood pressure, pulse, respiration, body temperature, digestion / absorption, immunity, hormones, etc. When a strong stress is felt, the sympathetic nerve becomes dominant and the body becomes in a fighting state. The result is increased blood pressure, increased heart rate, muscle stiffness, increased respiratory rate, decreased visceral function, decreased immunity, and hormonal imbalance. When the muscles are loosened by the Thai massage, the autonomic nerves regain their original balance, the parasympathetic nerves dominate, the brain relaxes, the muscles relax, and you can relax both mentally and physically.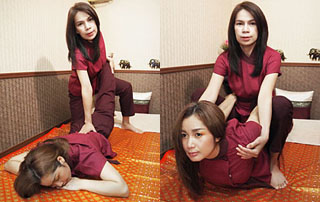 3. Breathing becomes long and deep, and you can experience a state of half-wake and half-sleep.

Our body digests and absorbs food and continues the oxidative reaction by breathing to obtain energy. At this time, if there is a lack of oxygen, the constitution will become acidic and the body will be more susceptible to illness. In addition, if carbon dioxide is not sufficiently discharged, nerves will become dull, muscles will become stiff, and the functions of each organ will also decrease. In Thai massage, the exhaled breath is the main long breath on both the stretching side and the stretched side, so oxygen enters well and carbon dioxide gas is discharged, so it is possible to prevent acidification of the constitution. In addition, the breathing at this time is the "Anapana Sati" breathing method when Buddha became enlightened, and the brain waves are in a meditative state with many alpha waves, and you can concentrate and get good inspiration. ..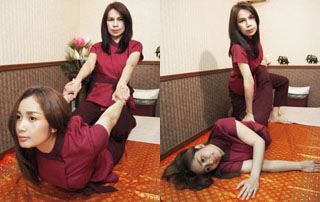 4. Body strain is eliminated and neuralgia and joint pain are eliminated.

Our bodies have different muscle tension due to unbalanced sports (golf, baseball, tennis, bowling, etc.) and poor posture (cat back, sitting sideways, putting a bag on one side), and the spine. And joints are distorted. In a distorted body, nerves and blood vessels are compressed, causing neuralgia, blood circulation disorders, and decreased function of internal organs. Thai massage includes a technique to massage the left and right muscles symmetrically and an action to correct the pelvis, hip joint, sacroiliac joint, lumbar spine, thoracic spine, etc. It improves, relieves pressure on nerves, blood vessels, and lymph vessels, and eliminates back pain, nerve pain, joint pain, blood circulation disorders, swelling, and decreased visceral function.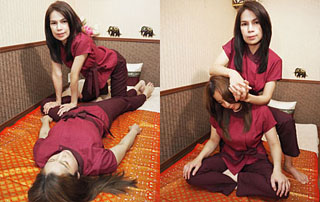 5. Treatment effect and preventive effect for chronic diseases.

In our body, when there is an abnormality in the internal organs, there is a system called reflex in which the skin, connective tissue, muscles, etc. corresponding to the internal organs react. In particular, the erector spinae muscles on both sides of the spine have many reflexes, and the reaction of internal organs appears as a lump. And by treating the tenderness and stiffness of the reflex area, the related internal organs can be improved. When the reflex area is loosened with Thai massage, various chronic diseases related to each organ (headache, insomnia, dizziness, pollinosis, stuffy nose, ringing in the ears, asthma, bronchitis, fifty shoulders, heart disease, high blood pressure, low blood pressure, gastrointestinal disease , Liver disease, kidney disease, menstrual pain, infertility, etc.), prevent these chronic diseases, and prevent illnesses.

Improve lymphatic flow, Oil massage that promotes metabolism

Oil massage uses oil components and lymphatic drainage massage techniques to supply oxygen to skin cells, promote cutaneous respiration, and promote normal metabolism. It moisturizes and moisturizes the skin, making it soft and lively, so it is recommended for those who are concerned about keratin and dry skin. Lymph drainage is a technique that activates the flow of lymph to collect and expel foreign substances and waste products that are unnecessary for the human body. Lymph fluid is carried by the slow, active flow of slowly beating lymph vessels and the passive flow of intermittent pressure in blood vessels, respiratory movements, and muscle movements. Such lymph fluid is susceptible to fatigue, cold, stress, etc. and tends to be stagnant. The lymph drainage method uses the fingertips of both hands to gently massage the pump so that it sucks up water to promote a smooth flow. When the lymph fluid regains its original flow with the therapist's hand technique, the cell's life is restored and rejuvenated.



◆Salon data◆
Traditional Thai Massage RUAN SPA
〒111-0053
Ohara No2 Building 3Flor
Asakusabashi, Taitoku, Tokyo.
Phone.03-6240-9037
Tap to CALL
Phone.070-1051-5346
Tap to CALL



◆Traffic◆
1 minutes walk from "Asakusabashi" stationon JR Yamate line
1 minutes walk from "Asakusabashi" station on Toei Asakusa Line



◆Business hours◆
12:00〜24:00
7 days a week



PC Site(Japanese)